Chennai Hotels General Travel Beaches Place of Worship Arts & Culture
St.Anthony of Padua
Saint Anthony of Padua is possibly the most celebrated Saint for the Roman Catholics. Born from a noble family of Lisbon, Portugal in the year 1195, christened as Fernando Martins de Bulhoes, St.Anthony became Anthony on joining the Order of Friars Minor. He was the contemporary of another notable Saint - St.Francis of Assisi.
St.Anthony was an extraordinary orator - a loud and booming voice, incredible memory, a winning countenance and profound learning. His humility and intense devotion to the our Lord Jesus Christ earned him the spirit of Prophesy and the Gift of Miracles.
Miracles of St.Anthony

St.Anthony has many epithets - Professor of Miracles and the Patron Saint of Lost and Stolen Articles. He was called as Hammer of Heretics and Evangelical Doctor. There are numerous miracles attributed to St.Anthony of Padua (not to be confused with the Saint Anthony of the Desert of the 3rd Century AD - the founder of Christian monasticism), and we show below only a few:
Miracle of the Jealous Husband: St.Anthony resuscitates a young woman - the wife of a jealous man who killed her on suspicion of committing adultery.

While giving a sermon in the Church of St. Pierre du Queriox, he remembered he had to sing a Lesson of the Divine Office. Interrupting suddenly his discourse, he appeared at the same time amongst the friars in choir to sing his Lesson, after which he continued his sermon.

A young man by the name of Leonardo had cut off his foot in a fit of remorse for having kicked his mother. St.Anthony miraculously joined the dismembered limb.

Another famous miracle is the sermon to the fishes on the bank of the river Brenta

St.Anthony's tongue is venerated in a reliquary kept in the basilica in Padua.
St.Anthony has always been popular in India regardless of religious affiliation. Just about 5 km from Thiruvanmiyur, in Palavakkam, a church was built in the year 2000 after considerable effort by the faithful from Palakalai nagar. Rt. Rev. Anthony Devotta, Bishop of Trichy, Rt. Rev. Dr. Amalanathan, Bishop Emeritus, Diocese of Tuticorin, jointly consecrated the Church on 2nd April 2002 and sanctified the sacrificial altar with a relic of St. Timothy embedded in the center.
In remembrance of the Eucharistic year (2004-2005), a 100 ft tower called as the Eucharistic Tower was also constructed at that time. In addition this church has a Grotto beneath the church which is populated with some rare images of Mother Mary in all Her forms. Palavakkam Church - as it is tucked away in a side street away from the busy ECR, is quiet most of the time. Inside the premises, you may find a number of caged birds and a few geese before the Father's hostel.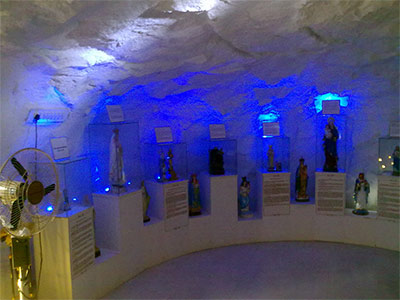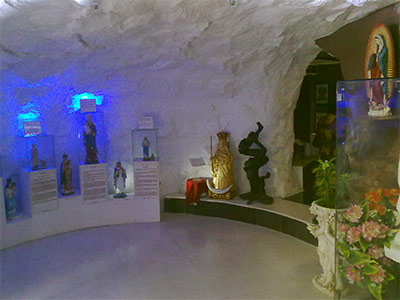 Prayer to St.Anthony For Healing

Compassionate St. Anthony, you are called the 'Miracle Worker' by those who have been blessed by your special friendship. I ask you to look with favor on (name the person) who is weak and failing.

Great St. Anthony, come to the assistance of (name). Obtain for him/her health in mind and body, and the strength to accept all suffering in union with Christ, our Savior.

Loving St. Anthony, console all those who are afflicted, and guide them to the heart of the Divine Physician, where they will obtain compassion, mercy and hope.

Amen.
Prayer to St.Anthony For Protection Against Danger

O Holy St. Anthony, be our protector and defender. Ask God to surround us with the Holy Angels, so that we may emerge from every danger in the fullness of health and well being. Guide our life journey, so we will always walk safely together with you, in God's friendship.
Amen.