Hotels in Chennai
Madras or Chennai as it is called now is an old city - tracing its origin to 1639 AD. It is the 3rd largest city in India in terms of population after Mumbai and Delhi. It has grown from a few square km to 426 square km now. The extended city limits and the burgeoning population ( about 9 million) makes this metropolis one of the thriving vibrant cities in Asia. Chennai City is seeing a metamorphosis - in terms of growth, career opportunities, real estate and construction and industrial progress.
Chennai has a hot, humid tropical climate and the average rain fall is much lower compared with other cities. It had broad tree lined avenues once. But the unbridled growth has chipped away the width of the roads and moving around in Chennai can be slow owing to Metro rail construction (for now). But one thing is certain - you will never fall short of accommodation in Chennai - there are many small hotels tucked away in the farthest corners near the Egmore or Chennai Central Railway stations or CMBT bus stations to cater to the budget conscious visitors. Or gleaming granite/glass fronted high rise luxury hotels located in every corner of the city for those with deep pockets.
Madras has a plethora of decent restaurants dotted around its various localities. They come in 2 variants - pure vegetarian and the other type non vegetarian. Many may claim to serve North Indian, South Indian, Chinese or Continental cuisine. When you are in Madras, you must try authentic Madras Filter Coffee or the famous Idli Sambar.
It is but natural that the city is teeming with new hotels, be it five star luxury hotels, comfortable holiday hotels and budget hotels. Our guide to hotels in Chennai gives you an informative look at some of the best hotel accommodations in Chennai. Check out details on hotels located in different parts of the city. From the Connemara Hotel that dates back several decades to the new Marriot Courtyard, Chennai boasts of several five star hotels.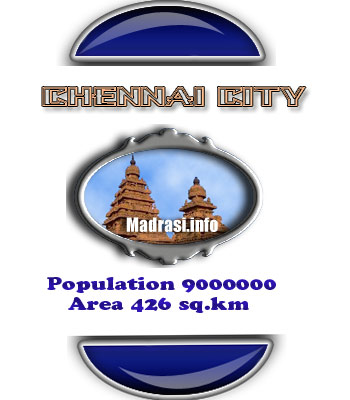 Madrasi - The Chennai portal is not connected with any Hotels and hence you will find unbiased views free from any commercial interest in our pages on Chennai Hotels. We have taken all possible precautions in compiling this list on Hotels in Chennai - from Budget Hotels to Luxury 5 Star Hotels. In case if we have omitted any hotel which in your view, should have been included, we would like to know about such Chennai Hotels. We would only be happy to include them if found to be suitable.