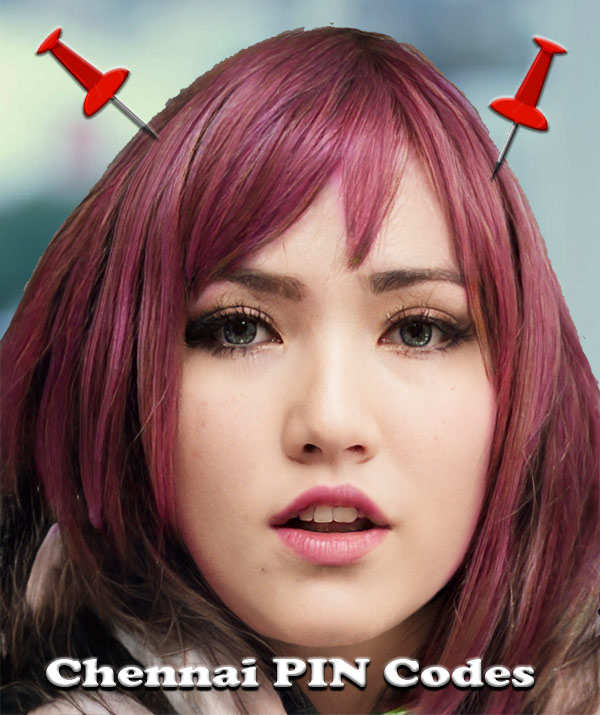 Money
Automobiles Education Chennai Hotels
Home Issues
Travel
Chennai Entertainment
Chennai Transport
Others
Chennai Pincodes
We have collected all the PIN Codes of Greater Chennai and present them here. The PIN codes are the latest at the time of publication of this page. You will notice that we have provided these PIN codes in a sequential manner. But some group of PIN codes will not have continuous sequence.
There are 2 ways to use this page of Pin codes.
Quick Way to find your Area Pin Code : (Recommended) Just enter the Area name or the probable Number. As you enter the Area - this page will automatically show you only the relevant Area matching the typed characters or digits. And while you are at it, please Book mark this page for you will never know when you may need it.

Old fashioned Way: Scroll down and look for the Area Pin Code.
Chennai GPO -------- 600 001
Anna Road GPO -------- 600 002
Park Town -------- 600 003
Mylapore -------- 600 004
Triplicane -------- 600 005
Greams Road -------- 600 006
Vepery -------- 600 007
Egmore -------- 600 008
Fort St George -------- 600 009
Kilpauk -------- 600 010
Perambur -------- 600 011
Perambur Barracks -------- 600 012
Royapuram -------- 600 013
Royapettah -------- 600 014
Saidapet -------- 600 015
St.Thomas Mount -------- 600 016
T.Nagar -------- 600 017
Teynampet -------- 600 018
Tiruvottiyur -------- 600 019
Adyar -------- 600 020
Washermenpet -------- 600 021
Raj Bhavan -------- 600 022
Ayanavaram -------- 600 023
Kodambakkam -------- 600 024
Guindy Engineering College -------- 600 025
Vadapalani -------- 600 026
Meenambakkam -------- 600 027
Raja Annamalaipuram -------- 600 028
Aminjikarai -------- 600 029
Shenoynagar -------- 600 030
Chetput HO -------- 600 031
Industrial Estate Guindy -------- 600 032
West Mambalam -------- 600 033
Nungambakkam -------- 600 034
Nandanam -------- 600 035
Indian Institute of Technology -------- 600 036
Officers' Training School -------- 600 037
ICF Colony -------- 600 038
Vyasarpadi -------- 600 039
Annanagar -------- 600 040
Thiruvanmiyur -------- 600 041
Velacheri -------- 600 042
Pallavaram -------- 600 043
Chromepet -------- 600 044
Tambaram HO -------- 600 045
Tambaram IAF -------- 600 046
Tambaram Sanatorium -------- 600 047
Vandalur -------- 600 048
Villivakkam -------- 600 049
Padi -------- 600 050
Madhavaram Milk Colony -------- 600 051
Red Hills -------- 600 052
Ambattur HO -------- 600 053
Avadi Camp HO -------- 600 054
Avadi IAF -------- 600 055
Poonamallee -------- 600 056
Ennore Thermal -------- 600 057
Ambattur Industrial Estate -------- 600 058
Tambaram East -------- 600 059
Madhavaram -------- 600 060
Nanganallur -------- 600 061
Satyamurthinagar -------- 600 062
Srinivasanagar -------- 600 063
Chitlapakkam -------- 600 064
CRP Gmp Avadi -------- 600 065
Pozhal -------- 600 066
Sholavaram -------- 600 067
Manali -------- 600 068
Kunrathur(Kanchi Dt) -------- 600 069
Anakaputhur -------- 600 070
Kamarajanagar -------- 600 071
Pattabiram -------- 600 072
Selaiyur -------- 600 073
Pozhichalur -------- 600 074
Pammal -------- 600 075
Korattur RS -------- 600 076
Thiruverkadu -------- 600 077
KK Nagar -------- 600 078
Sowcarpet -------- 600 079
Korattur -------- 600 080
Tondiarpet -------- 600 081
Jawahar Nagar/Agaram -------- 600 082
Ashok Nagar -------- 600 083
Flowers Road -------- 600 084
Kotturpuram -------- 600 085
Gopalapuram -------- 600 086
Alwarthirunagar -------- 600 087
Adambakkam -------- 600 088
Nandambakkam -------- 600 089
Besantnagar -------- 600 090
Madipakkam -------- 600 091
Virugambakkam -------- 600 092
Saligramam -------- 600 093
Choolaimedu -------- 600 094
Jaffarkhanpet -------- 600 095
Perungudi -------- 600 096
Ekkaduthangal -------- 600 097
SIDCO Estate -------- 600 098
Kolathur/CPT -------- 600 099
Medavakkam -------- 600 100
Annananagar W. Ext. -------- 600 101
Annanagar E. Ext. -------- 600 102
Manali New Town -------- 600 103
High Court Buildings -------- 600 104
Commander-in-Chief -------- 600 105
Arumbakkam -------- 600 106
Koyambedu -------- 600 107
Broadway -------- 600 108
Railway Car Shed -------- 600 109
Ponniammanmedu -------- 600 110
Ayappannagar -------- 600 111
Choolai -------- 600 112
Tharamani -------- 600 113
Pazhavanthangal -------- 600 114
Madras University -------- 600 115
Porur -------- 600 116
Keelakattalai -------- 600 117
Kodungaiyur -------- 600 118
Sholinganallur -------- 600 119
Nandiambakkam -------- 600 120
Mangadu -------- 600 122
Sembarambakkam/Nazarethpettai -------- 600 123
Puduchatram -------- 600 124
Mugalivakkam/Manapakkam -------- 600 125
Sithalapakkam -------- 600 126
Melakkottaiyur -------- 600 127
Thandalam/Kovur -------- 600 128
Kovilambakkam -------- 600 129
Navalur -------- 600 130
Principal Chief Postmaster General -------- 600 201
Chief General Manager BSNL -------- 601 202
Minjur -------- 601 203
Ponnery -------- 601 204
Pulicat -------- 601 205
Kaverapetai -------- 601 206
Arambakkam(rs) -------- 601 207
Tirupalaivanan -------- 601 208
Thirumullaivoyal -------- 601 209
Perumbedu -------- 601 210
Elavur -------- 601 211
Iguvan Palayam -------- 601 212
Jothi nagar -------- 601 213
Devampattu -------- 601 214
Director of Medical Services -------- 601 215
Director of Public Health -------- 601 216
Staff Selection Commission -------- 601 217
Teachers Recruitment Board -------- 601 218
US Consulate, Chennai -------- 601 219
Commissioner of Police -------- 601 220
Integrated Enterprises, Chennai -------- 601 221
Accountant General Office, Chennai -------- 601 223
World Vision, Chennai -------- 601 224
Jesus calls, Chennai -------- 601 225
HSBC Card production Division, Chennai -------- 601 226
Bharti Airtel Ltd, Chennai -------- 601 227
Income Tax Department, Chennai -------- 601 228
Central Excise, Chennai -------- 601 229
Institute of Charted Accountants, Chennai -------- 601 230
Padappai -------- 601 301
Gowrivakkam -------- 601 302
Old pallavaram -------- 601 303
Tiruvallur -------- 602 001
Manavalanagar -------- 602 002
Kakalur Ind Estate -------- 602 003
Kilanur -------- 602 021
Poondi/Nambakkam -------- 602 023
Thiruninravur -------- 602 024
Pakkam -------- 602 025
Mambakkam/Uttukottai -------- 602 026
Palavakkam -------- 602 028
Mangadu -------- 602 101
Vellavedu -------- 602 103
Nemam -------- 602 107
Kelambakkam / Padur -------- 603 103
Mamallapuram -------- 603 104
Sirudavur -------- 602 105
Tiruvanaikoil -------- 602 106
Olaiyur -------- 602 107
Hanumanthapuram / Sembakkam -------- 602 108
Tirukalikundram / Oragadam -------- 602 109
Mamandur / Manapakkam -------- 602 111
Muttukadu / Kovalam -------- 602 112
Elapakkam -------- 602 201
Guduvanchery -------- 602 202
Kattankolathur -------- 602 203
Singaperumalkoil -------- 602 204
Urapakkam -------- 602 210