include ("other-links.html");?>
"Auroville wants to be a universal town where men and women of all countries are able to live in peace and progressive harmony above all creeds, all politics and all nationalities. The purpose of Auroville is to realize human unity." - Auroville
The city of dawn, Auroville, is a universal township that intends. to make people realize human unity in diversity. Auroville welcomes and encourages people from across the world to live collectively and learn cultural, scientific, educational, spiritual, and various other quests in accord to the terms of the Auroville Charter.
The making of Auroville

Mirra Alfassa, respectfully known as the Mother had a vision of an ideal township during the 1930s. She wanted the township to dedicate itself to research in human unity. In the mid 1960s, Sri Aurobindo society in Pondicherry suggested to her to start such a township. This project was supported by the Government of India and placed before the UNESCO general assembly. In 1966 the UNESCO general assembly passed a resolution endorsing the project.
The inauguration of Auroville was held on the 28th of February, 1968 and was attended by delegates from 124 nations. As a symbolic gesture of human unity, a boy and a girl poured a handful of soil from their nation into a lotus-shaped marble urn kept at the center of the city that was soon to be constructed.

The Mother gave Auroville its four point charter during the inauguration of Auroville.
Auroville belongs to nobody in particular but humanity as a whole. To live in Auroville, one must be the willing servitor of the Divine Consciousness.

Auroville was to be the place of unending education, of constant progress and youth that never ages.

Auroville wants to be the bridge between the past and the future. Taking advantage of all discoveries from without and from within, Auroville will boldly spring towards future realisations.

Auroville will be a site of material and spiritual researches for a living embodiment of an actual Human Unity.


include ("right-ad.html"); ?>

Visiting Auroville
The visitors centre provides all information about Auroville, holds exhibitions and offers shopping opportunities. You can pick up incense, fabric, handicrafts and other produce of Auroville. You can sit in the shady courtyard and partake of the refreshments in the cafeteria.

Accommodation for visitors is available in the various settlements close to Auroville. The charges are between Rs. 150 to Rs. 1000 per person per night. Guests to Auroville have to contribute money every day for the maintanence of Auroville.
City of Auroville

Peace area: The matrimandir, its gardens, township, amphitheatre and the urn that has soil from 121 nations and 23 Indian states is found here.

Residential zone: Parks and residential buildings are housed here.

Industrial zone: It has small and medium sized industries, training centre, and arts and crafts centre.

Cultural zone: This is where cultural, sports, educational and art activities are held.

International zone: This zone focuses on the idea of unity in diversity.

Green belt: Organic farms, dairies, forests, orchards, and wildlife areas are enclosed in this zone. This zone is separated form the inner-city zone and has set an example for conversion of wasteland into a lively eco system.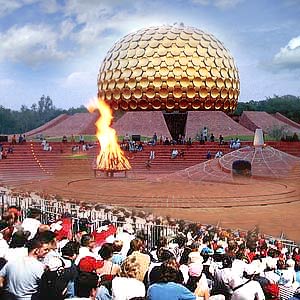 include ("sky-ad.html");?>