Tata Harrier SUV, code named as H5X, based on the D8 Architecture from Land Rover may well be the worthy SUV Indian roads need. It is powered by Kryotec 2 liter diesel engine sourced from Fiat. Harrier is loaded to the gills with safety features and enhanced creature comfort levels.
Tata Harrier which was originally code named as H5X, is based on the Tata Stable's Land Rover D8 Architecture.
Harrier is really impressive going by the list of features alone. Tata Motors takes the credit for releasing one of the safest cars in India with its Nexon which has scored 5 stars in Global NCAP. In its line, the new Harrier is probably the safest SUV in India.
Harrier Safety Features:

Tata leverages its steel manufacturing prowess by the extensive use of advanced high strength steel and tailor welded blanks for high strength and reduced weight in these new age cars.
Monocoque construction with enhanced torsional and bending stiffness.
Well designed crumple zones for absolute safety. Auxiliary isolation panels for quiet and refined in-cabin experience.
Built on advanced 90%+ automated manufacturing line for robust built quality and reliability. Isolated sub-frame design minimizes the noise and loads caused by severe impacts such as speed humps.
Enough of Manufacturer-speak: What does it offer in layman's terms ?
6 Airbags, Electronic Stability Program (ESP)and Front Fog lamps with cornering function.
The lights with cornering function makes you 'see' what is in the dark area in a curve. If you drive in the hills, it prevents you from playing a Russian Roulette every time you turn your wheels into a bend.
Bottom line is if you are looking for a safe family car with impressive credentials, look no further. It will be a Tata Harrier you should consider.
Tata Harrier Engine Harrier is powered by what they call Kryotec 2.0 L Diesel engine. Tata has collaborated with Fiat and this Kryotec engine is from Fiat's patented 2.0 engine.The Advanced Electronically Controlled Variable Geometry Turbocharger (eVGT) will ensure excellent power & pickup to take on any terrain. The KRYOTEC comes with Low Friction Valve Train Architecture and an Advanced EGR to deliver exceptional fuel economy and to meet stringent emission requirements.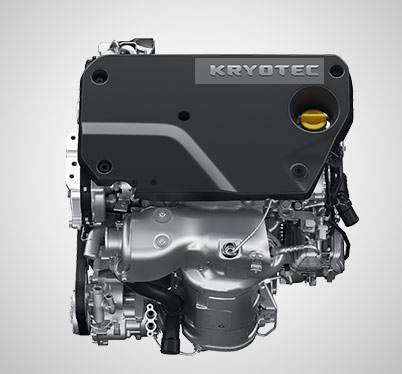 Fiat's MultiAir technology patented in the year 2010 - works like so:The MultiAir system is elegantly simple. An electrohydraulic actuator for a highly responsive engine where electronically activated solenoid controls the pressure applied to hydraulic fluid (engine oil drawn from the sump) that fills a thin passageway that connects the intake valves and the camshaft. The solenoid valve regulates the amount of oil that is pumped by the cam action either to the valve or a bypass reservoir. To paraphrase the technology in simple terms - this patented technology uses advanced electronics and hydraulics to seamlessly control the variable geometry turbocharger to provide exceptional performance and at the same time still offer phenomenal fuel economy. At the current level, it produces 140 BHP and has 300 NM torque. In future, Tata Motors may tune the engine for more power.
Harrier Features:
ESP Terrain Response Modes - Normal, Rough and Wet

Cruise control

Xenon HID Projector Head lamps

Outer Mirrors with Logo Projection

Leather seats and leather wrapped steering/ gear shift knob

Reverse parking camera

Tata Harrier Specifications: Tata Harrier has 2.0 L 4 cyl engine which delivers 140 BHP with a torque figure of 300 Nm. This model comes with Air conditioning as standard fitting. Harrier from Tata has Power steering and Power Windows. It is outfitted with central door locking in tune with its class.

Tata Harrier - SUV Car segment is equipped with a 6 speed gearbox.

Tata Harrier Price: Tata Harrier in India costs approximately about Rs. 12.69 lakhs (showroom price)for the base version in Chennai( Price may vary depending upon the local taxes and Octroi ) at the time of publishing this page. Please note that the car manufacturer - Tata may increase/decrease the list price at any time. Again you may note that the price mentioned here is for the Diesel variant. On the road price will depend on the GST, Road tax, Insurance and extended warranty fees if any.
Harrier Fuel Economy: This car runs 15 km per liter of Diesel in city driving conditions while it runs 20 km per liter of Diesel in highway conditions. In other words, the fuel economy of Harrier is Rs. 6.47 per kilometer. If you drive about 1000 km in a month, you will be spending about Rs. 6470 on your fuel ( at the prevailing fuel price in Chennai). Your actual mileage may vary.
The information presented in this page has been collected from the respective web site of the manufacturer amongst other reliable sources. We have summarized the various features of this Tata Harrier in a tabular format below.
Cost & Performance
Model
Features

| | | | |
| --- | --- | --- | --- |
| | | | |
| Product | | | Tata-Harrier |
| Price(in lakhs) | | | 12.69 |
| Engine | | | 2.0 L 4 cyl |
| Gear | | | 6M |
| Power(bhp) | | | 140 |
| Torque(Nm) | | | 300 |
| | | | |
| | | | |

Tata Harrier Picture

| | | | |
| --- | --- | --- | --- |
| Tubeless Tyres | | | Yes |
| Music System | | | Yes |
| Air Condition | | | Yes |
| Adjustment Steering | | | Yes |
| Power Steering | | | Yes |
| Power Windows | | | Yes |
| Alloy | | | Yes |
| Segment | | | SUV |
| | | | |
| | | | |