Edward Elliots Beach
The Edward Elliots Beach located at Besant Nagar is a popular spot for those seeking relief from the sweltering heat and the hustle and bustle of the city. It is lot more cleaner than the Marina Beach and boasts of a wide choice of restaurants and fast food joints nearby. You will find ample car parking space and plenty of eateries around this upscale neighbourhood. Ponnuswamy Restaurant, Karaikudi restaurant, Lee's Chinese Restaurant and the new Shangri La - Malaysian restaurant are some of the famous eateries nearby.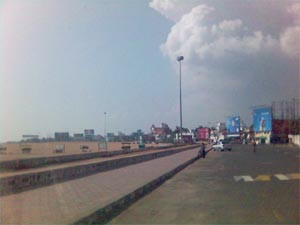 Don't miss the stone memorial located on the sands of the beach - a memorial for the Dutch sailor Karl Schmidt who lost his life when rescuing a drowning sailor. At the southern end of the beach, you can find the Velankanni Church. The Ashtalakshmi Temple is located further down. This temple is a relatively newer temple dedicated to the eight manifestations of Goddess Mahalakshmi. In a quiet side street closer to Kalakshetra is another temple dedicated to Arupadai Murugan.
Publish FREE Classifieds | View Free Classified ads