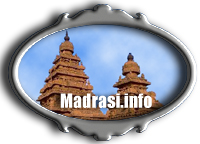 Tata Indica Xeta GLX
Buy your dream car using the carefully collated information here - Get complete information on Tata Indica Xeta GLX - prices, engine performance and other features in this exhaustive automobile and bike section. Madrasi.info is your Chennai city guide. From automobiles to education, from latest cars to travel destinations, you will find it all here.
Search for Information about Chennai

Tata Indica Xeta GLX Specifications: Tata Indica Xeta GLX has 4cyl 1405cc engine which delivers 70 BHP with a torque figure of 121 Nm. This model comes with Air conditioning as standard fitting. Indica from Tata has Power steering and Power Windows. It is outfitted with central door locking in tune with its class.

Tata Indica Xeta GLX - Medium Car segment is equipped with a 5 speed gearbox.

Tata Indica Xeta GLX Price: Tata Indica Xeta GLX in India costs approximately about Rs. 3.7 lakhs (showroom price)for the base version in Chennai( Price may vary depending upon the local taxes and Octroi ) at the time of publishing this page. Please note that the car manufacturer - Tata may increase/decrease the list price at any time. Again you may note that the price mentioned here is for the Petrol variant. On the road price will depend on the GST, Road tax, Insurance and extended warranty fees if any.
Indica Fuel Economy: This car runs 10.9 km per liter of Petrol in city driving conditions while it runs 15.9 km per liter of Petrol in highway conditions. In other words, the fuel economy of Indica is Rs. 6.61 per kilometer. If you drive about 1000 km in a month, you will be spending about Rs. 6610 on your fuel ( at the prevailing fuel price in Chennai). Your actual mileage may vary.

The information presented in this page has been collected from the respective web site of the manufacturer amongst other reliable sources. We have summarized the various features of this Tata Indica Xeta GLX in a tabular format below.
Cost & Performance
Model
Features

| | | | |
| --- | --- | --- | --- |
| | | | |
| Product | | | Tata-Indica-Xeta-GLX |
| Price(in lakhs) | | | 3.7 |
| Engine | | | 4cyl 1405cc |
| Gear | | | 5M |
| Power(bhp) | | | 70 |
| Torque(Nm) | | | 121 |
| | | | |
| | | | |

Tata Indica Xeta GLX Picture

| | | | |
| --- | --- | --- | --- |
| Tubeless Tyres | | | No |
| Music System | | | No |
| Air Condition | | | Yes |
| Adjustment Steering | | | No |
| Power Steering | | | Yes |
| Power Windows | | | Yes |
| Alloy | | | No |
| Segment | | | B |
| | | | |
| | | | |